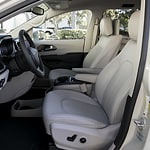 The Chrysler Pacifica is a minivan that is great for family trips. It has a handsome cabin and will give you a comfortable ride. It is great on gas and has the ability to get up to 28 MPG. The performance features also ensure that you will have a comfortable and smooth ride.
Safety is one of the main concerns that people have when they are driving or riding in a car. You and your passengers will be able to feel safe while you are in the car because the Chrysler Pacifica has standard electronic stability control. It helps you stay in control of the vehicle. It will adjust the throttle and brake if necessary.
This vehicle is also great for hauling things. If you hook up a trailer properly, then the vehicle has the ability to tow up to 3,500 pounds. You can try out this vehicle at our local dealership.