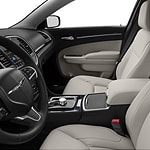 The Chrysler 300 is a full-size sedan that is known for its luxury. An example of the expression of luxury in the Chrysler 300 is the heated seat feature. Both the driver and front passenger have control over how hot or cold they want their seat, and all seats in the vehicle are covered in real leather.
Another awesome luxury feature is the ambient blue light the hovers over the driver's dashboard. Drivers will find the telescopic dashboard feature to be ultra-beneficial as a blue light causes things like speed, fuel, and tire pressure to be seen brightly. Drivers can easily adjust the brightness of the blue light in order to feel more comfortable on the road.
The Chrysler 300 also comes with smart-steering. This allows drivers to change things like music, volume, driving mode, and more, all while keeping both hands on the wheel. Drivers can also answer and even make phone calls via the steering wheel.