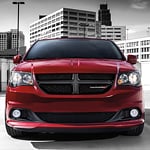 If you're looking for a vehicle that provides safety from every angle, look no further than the Dodge Grand Caravan. At Chiefland Chrysler Dodge Jeep Ram FIAT in Chiefland, FL, we are proud to offer this vehicle as a great option for safety for you and your family. A popular minivan, this vehicle goes out of its way to ensure that your precious cargo stays safe and secure.
One way in which the Dodge Grand Caravan ensures the safety of passengers and cargo alike is through its active front-seat head restraint system. In the event of a collision, this front seat head restraint system will activate to ensure that the distance between the headrest and your head is minimized thereby decreasing the chances of severe injury. Additionally, the Dodge Grand Caravan provides its drivers with Parkview rear camera access which allows them to see directly behind them to avoid any unnecessary collisions or tragic accidental deaths.
Overall, the Dodge Grand Caravan is a great pick for those looking for added safety. With special features including Parkview rear camera access and front-seat head restraint systems, you can drive with peace of mind knowing your risks of injury or accidental collisions have been lowered greatly, thanks to your expertly designed Dodge vehicle.